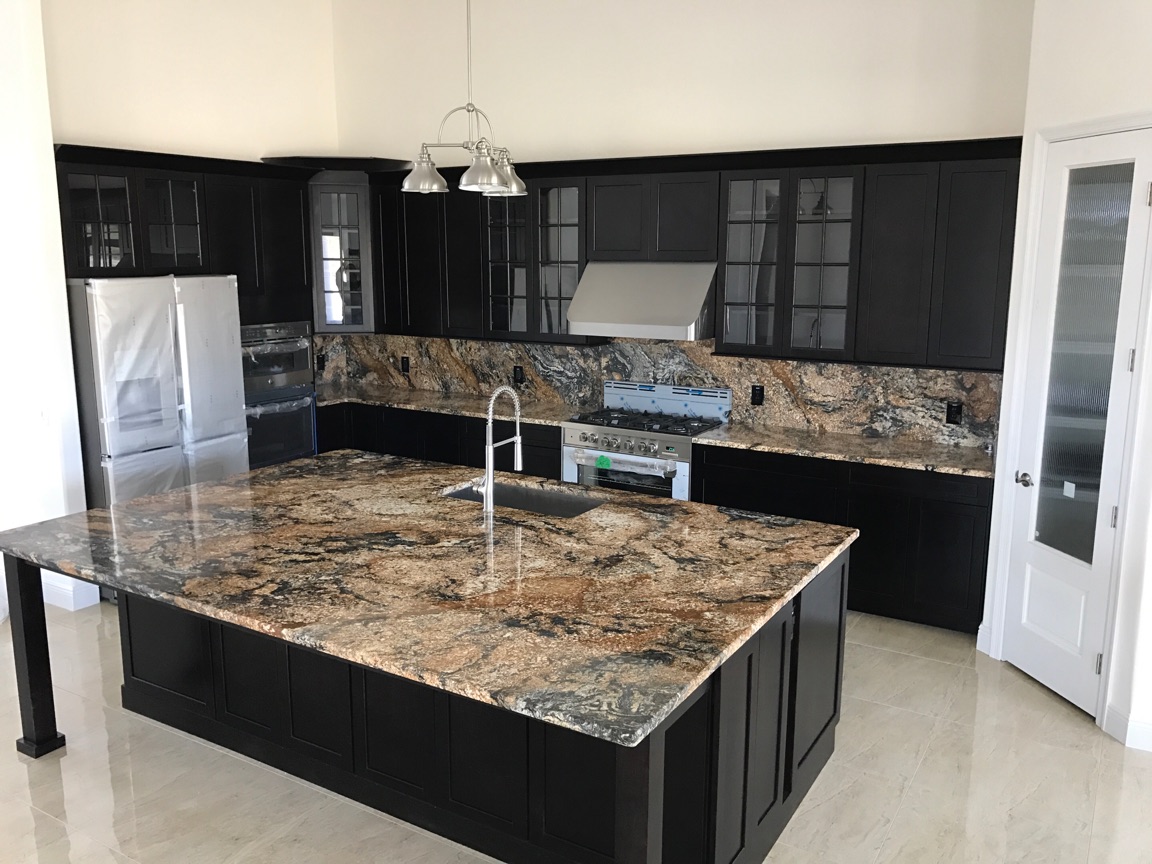 Granite is the most popular countertop choice for a reason, but it's not without its faults. If you're considering choosing granite for your kitchen or bathroom countertops you should understand it's pros and cons before you make your final selection. Read on to learn more about the pros and cons of granite countertops here!
The Pros of Granite
Granite countertops are known for their beauty, but what most people don't realize is that each granite slab is unique, so no home will have the same exact pattern, veining or coloring. Although you might find two granite slabs that are extremely similar, there will be small differences between the two – perfect for those who want that custom look. 
Besides their beauty, granite is extremely durable, and resistant to heat, scratches, and staining, so you can expect your granite countertops to last the lifetime of your home. Additionally, they are known for being low maintenance; simply use a nonabrasive cleaner and your countertops will be shiny, and streak and bacteria free!
If you're looking to add value to home, granite countertops could be the perfect solution. Granite does not depreciate in value so you can expect to receive your initial investment back in full when you move.
The Cons of Granite
One of the largest negatives (in some people's eyes) of granite countertops is they're permanent. Their color cannot be changed, stained, or altered, so if you want to update the look of your countertops you will have to rip them out and start from scratch. Even if you do decide to change out your granite for another variation, you risk damaging your cabinets. Granite is attached to cabinets using glue, spans, and cantilevers, so removal can be tricky and leave unwanted residue.
Another potential negative of granite is that it can crack easily; one wrong swing with a meat clever and your entire kitchen island countertop could crack in half. Luckily, the likelihood of something striking the granite with the force needed to crack it are extremely low.
The last con of granite we will touch on is potential seams. Because you will likely need large expanses of granite to cover your countertops (in the kitchen especially) you may have to contend with seams between pieces of granite. The good news is that as long as your installer is a professional, you shouldn't notice the presence of any seams, although they may be there.
We hope this post has been helpful in your understanding of the positives and negatives of granite countertops. If granite countertops are the right choice for your home, give our team of professionals at Legacy Granite a call today to discuss your home's granite needs.