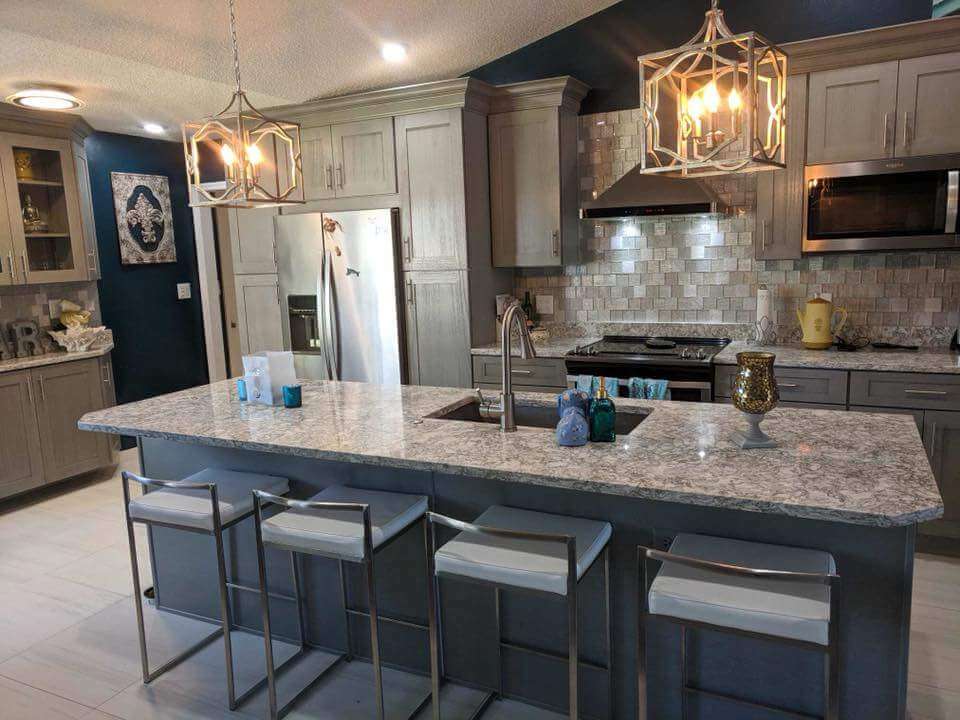 With their durability, aesthetics, and affordability, granite continues to be one of the most popular choices for residential countertops. Because of the wide range of granite variations and edges available, there is sure to be one that will perfectly complement your home, no matter if you're looking for new countertops in your bathroom, kitchen, or bar. If you're having a hard time choosing between the hundreds of available granite varieties on the market, read on to discover the most popular granite colors. 
Rio White
If you love the look of marble, but not the price tag, consider choosing Rio White granite instead. It has similar color deposits as White Carrera marble, with slabs varying from snow white to medium greys. Rio White has a lighter base color, with lines of soft grey and white throughout; it's the perfect countertop for homes with neutral flooring and cabinets.
Artisan White
With a neutral color palette, but bold patterns, Artisan White granite will add a statement to any kitchen or bathroom. The natural color pallet of this granite makes is another great marble alternative, but it has deeper and thicker veins of color. If you want a countertop that catches the eyes of your guests, but doesn't clash with your interior design choices, Artisan White may be the choice for you.
Giallo Ornamental Light
This is a lighter-colored and more affordable variation of ever-popular Giallo Ornamental granite. The affordability and wider availability of the Giallo Ornamental Light granite make it a great choice for homeowners who prefer white granite, but don't want a heavy price tag. If you have a large expanse of countertops to cover, choosing this granite color will ensure you stay in budget.
Black Pearl Leathered
If you want a dark granite as opposed to the white variations we mentioned above, Black Pearl Leatherhead granite could be a great choice for your home. Dark granite variations perfectly contrast white cabinets and light colored flooring, creating stark color differences throughout the room. The dark color also masks spills and messes if you have small children or an overly active kitchen.
Spectral
Debating between white and black granite? Spectral granite might be the solution to your debate. As the name suggests, Spectral granite is speckled with black, white and grey colors and looks wonderful with all cabinet and flooring colors. Why choose black or white granite when you could have them both?
We hope this post has been helpful in narrowing down the granite countertop color you should select to best match your home. If none of these options sounds exactly like what you're looking for, don't worry! We carry hundreds of granite color variations and look forward to helping you find the perfect one for your home. Give our team at Legacy Granite Designs a call today !