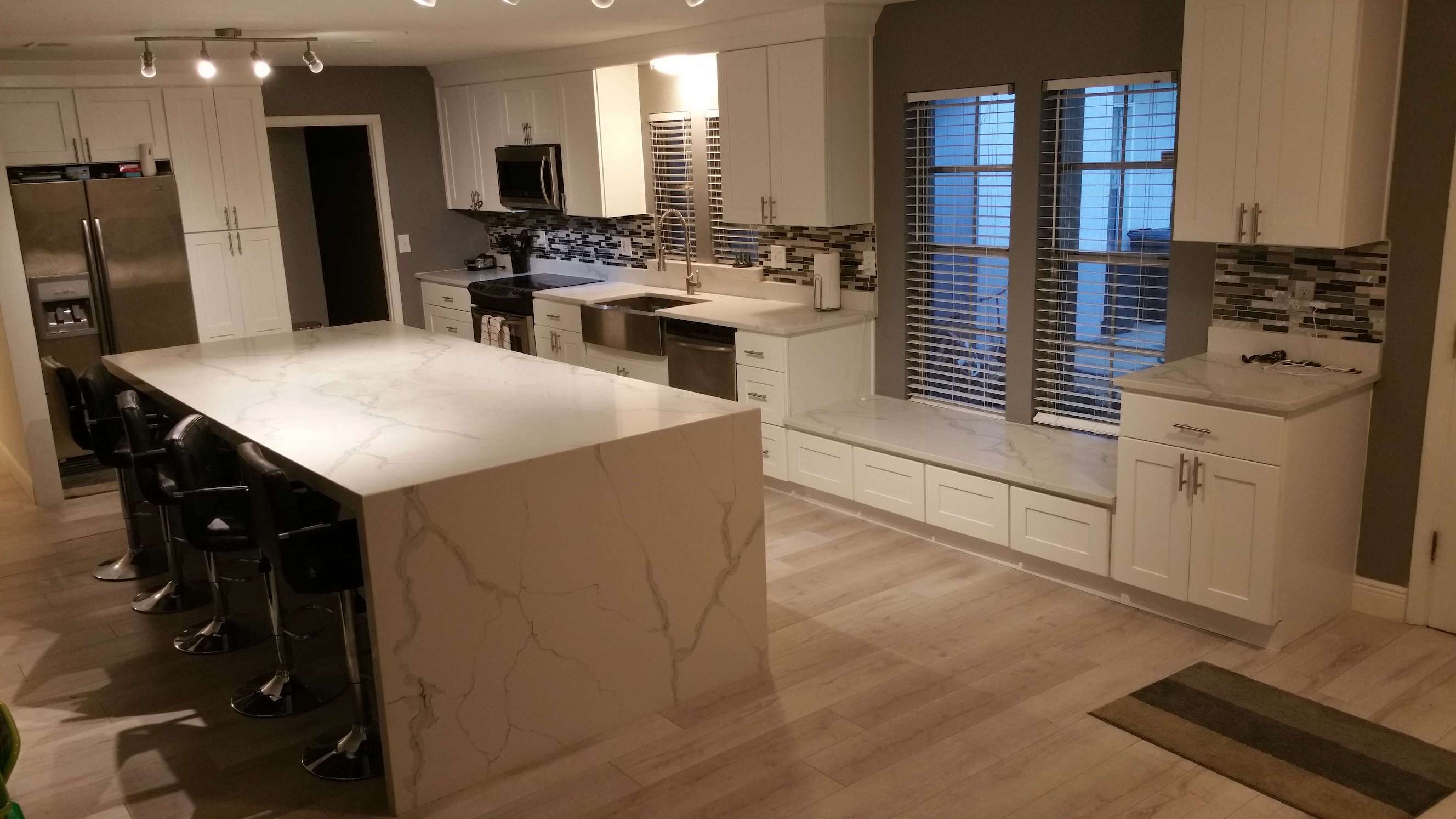 No matter if you're working on a kitchen or bathroom, starting completely from scratch or doing some light remodeling, you have some big decisions to make – especially when it comes to matching your countertops, cabinets, and flooring. Of course, you don't want to match them all completely (could you imagine the cleaning you would have to do in an all-white kitchen?), but you don't want them to clash either. Countertops, cabinets, and flooring are all focal points of any small or large room, so it's important that they coordinate well to create a coherent space.
If you're remodeling or designing your kitchen or bathroom, follow our tips below to create perfectly matched countertops, cabinets, and floors.
Step 1: Select Your Color Scheme
Before you start thinking about the colors of specific elements in your space, take some time to determine its color palette. If the main elements in your space are countertops, cabinets, and floors, we recommend choosing three primary colors, and one or two secondary, accent colors. Popular color combinations include:
White, grey, and brown
Blue, white, and tan
Grey, black, and sand
Once you've chosen your primary color scheme, start envisioning how each color would play into your space.
Step 2: Choose Your Countertops
Design experts agree that the next logical step in your design process is choosing your countertops. Popular materials include quartz, marble, and granite, and they all come in a wide range of colors and patterns. The most important factor in choosing your countertop is how often you plan on cleaning them. If you have a messy household and don't want to clean your kitchen every day, dark countertops will better mask dirt. However, if you love the look of white counters, but don't want to worry about constantly keeping them clean, you can choose a white counter than has darker veins and patterns for a good mix of dark and light coloring.
Step 3: Choose Your Cabinets
Now that your counters are selected, it's time to move onto your cabinets. Keep in mind that when dealing with a kitchen, you don't have to choose the same color on your surrounding cabinets and your kitchen island – in fact, many people choose an accent color for their island to break up the space. Bathrooms on the other hand typically have the same cabinet color throughout. While some homeowners stick with the classic whites and browns, brighter colors like blues and oranges have more recently become popular in cabinets; it all depends on your personal taste.
Step 4: Choose Your Flooring
While this is the last step on our list, if you are doing a total house design or remodel you may have already chosen a floor that you will use throughout the home. We recommend using the same flooring in your kitchen as you do in other rooms of your home; popular options include hardwood and similar-looking variations. In bathrooms, you can get away with choosing a different tile or flooring option to fully-customize the space. Whichever flooring type you choose, make sure the color is something you'll be happy with in the long run and makes sense for your lifestyle.
Now that you understand how to perfectly match your countertops, cabinets, and floors, it's time to pick your color palette and choose your countertops. For all your granite, quartz, and marble needs give Legacy Granite a call!